In this chapter we look at how to comment on artistic and other creative events, and why it is a useful thing to do.We also include some guidance on online reviewing for amateurs and influencers
_____________________________________________________
Many newspapers and some radio and television stations carry reviews of artistic and cultural events which take place. The review will usually be a description of the event, together with a critical assessment of how well it was done.
Why the media publish reviews
Reviews are typically written of plays and other theatre performances, concerts and recitals, new recordings (records, cassettes and CDs), movies, radio and television programs, books, art exhibitions and special museum exhibitions. In some societies other forms of entertainment and venues such as restaurants might also be reviewed.
There are three reasons why such activities are reviewed:
Guidance for readers or listeners
Our readers or listeners have limited amounts of time and money. Before they decide whether or not to use some of their time and money going to a concert, they will want some information about it. Is it the sort of thing they are likely to enjoy? What kind of music is it - traditional, Western classical, popular Indian, rock and roll? Are the musicians good? How much does it cost to get in? How long does it go on for?
People often discuss such things before they make decisions, asking the opinion of friends who have already been. The reviewer can be the friend who has been, offering an opinion to help the readers or listeners decide. This is an important reason for reviewing.
Feedback to artists
People who write books, make movies, put on plays and concerts or paint pictures devote a great deal of time and energy to it. Usually they want to do it as well as they can. Usually they will want to please the public, and often they will want public applause.
It is very helpful to any artist - a creator or a performer - to have some feedback from the public on the merits of what they have done. Artists will read reviews of their work to see what the reviewers thought of it. Artists may not like negative reviews but if the reviewer is knowledgeable, his or her comments can help the artist to improve.
Historical record
Part of the job of the media (and especially newspapers) is to provide a historical record of what happens in society. If an exhibition of carving is mounted, it is important that there should be a historical record of the fact.
Part of this can be done with just a news story, ideally with a supporting photograph. This will record the fact that the exhibition took place. However, it would tell people in the future nothing about the exhibition itself, only that it took place. Reviews are written so that people in the future can know something about the nature and quality of the exhibition, as well as the fact that it happened. This provides a complete historical record.
The reviewer
It should already be clear that the reviewer must be a special person. It is not possible for every reporter to be a reviewer; and it is not possible for anybody to be a reviewer in all fields.
A reviewer needs to be knowledgeable in the field under review. If it is a dance to be reviewed, the reviewer must know about dance. It is not necessary for the reviewer to be a dancer or ex-dancer, though he or she may be; but the reviewer must be an experienced spectator, with a deep understanding of what dance is about, and what should be expected of the dancers.
It may well be that a media organisation does not have such a person on the staff. What then should it do? Usually, it will find an outside person who is qualified to write dance reviews, and ask that person always to do reviews for the organisation whenever there is a performance of dance. Some people will expect a small payment for doing this job; others may do it just for their love of dance, and because they want to see knowledgeable reviews in your newspaper or program.
Importance of impartiality
There is a danger, however, in using outside reviewers. Especially in small communities, the most knowledgeable people in any field are usually the ones who are putting on the performance. If a concert of Western choral music is being put on, by local amateurs, then it is quite likely that everybody who knows about and loves this kind of music will be in the choir.
It is vital that you never allow anybody who is involved in putting on a production to review it.
The reason for this is obvious - nobody who is involved can achieve any of the three reasons given above for publishing a review. Since they are biased, they will be bound to say that the performance is good; this does not help your readers or listeners to decide whether or not to go, nor does it provide a record of the actual standard of the performance. Furthermore, it cannot give the performers themselves critical feedback.
Look for a person who is knowledgeable but not taking part. If there are two conductors who take in turns to put on choral concerts, you may get them to agree to review each other's concerts.
If no suitable person is available to do a review, it is better that you do not try to publish a review at all. A short news report with a photograph is not nearly as good as a good review, but it is much better than an ignorant review.
What you can do, though, is to write a feature about the concert, or interview the conductor, the lead singers and the musicians. This will be helpful, whether or not you can do a review.
Doing the review
As with any assignment, you will do a better job if you do some preparation first. If you are going to review a play, for instance, find out something about the play and the playwright.
As with any round, you will need to keep yourself generally educated in the arts. Try to read as many relevant books and magazines as possible. See Chapter 26: Rounds for more details of this.
Always try to review something as soon as it is open to the public. This is important, since it allows your readers or listeners as much time as possible to go to the performance themselves, if they wish to, after they have read your review. Go to the first night of a play or concert; go to the first day of an exhibition.
For a movie, or a book, or a record, you can try to get a copy before it goes on sale to the public, and publish your review as soon as it is released. Book publishers, cinemas and recording companies will often make arrangements for this, if you tell them you want to do reviews. If you are reviewing television programs, ask the TV company for an advanced tape of the program to watch before it appears on the screen or in the TV guide. This helps people plan their viewing.
Do not review live performances on the strength of rehearsals, though, even if it allows you to publish your review sooner. This will not do any of the jobs which a review is supposed to do. It will not provide a record of what the performance was like, will not be a fair guide to readers or listeners of whether or not to attend, and cannot give helpful feedback to the performers, since they can dismiss any adverse criticism on the grounds that it was only a rehearsal.
It is important that you get a good seat, from which you can see and hear everything clearly.
If you are reviewing a live performance at a theatre, concert hall or gallery, make sure too that you get a copy of the program, if there is one. This will give you the names of all the participants.
It is a good idea to check with somebody who knows whether all the names are spelled correctly. It would be a pity to repeat a typing error in your review.
If you are reviewing a radio or television program or recorded music, it is important that you listen on good quality equipment. Whether you are at a theatre or at home, you cannot review something if you have had to struggle to see and hear it.
Make notes as the performance goes along, or as you read the book or listen to the record, or as you walk around the exhibition, of whatever comes into your head as worthy of comment. However, do not write so many notes that you distract yourself from an impression of the performance as a whole. You need to learn to relax and to enjoy the performance, at the same time as making brief notes to remind you of details.
Finally, do not forget to keep an eye on audience reactions, as well as on the performance itself. If the crowd laugh a lot, or sit on the edges of their seats, or cry, or go to sleep, or jeer, this is an important matter of historical record, and rightfully belongs in your review. The first performance of the ballet The Rite of Spring ended early because the Paris audience booed and threw things at the dancers. We know this because the reviewers all included it in their reviews.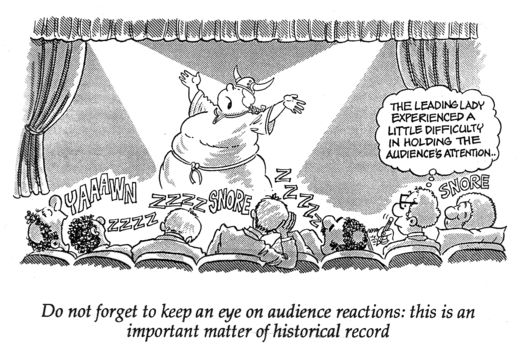 Writing the review
The most important thing to remember when writing a review is that it should always be honest. If you tell lies in order to avoid hurting people's feelings - for example, saying that an actor was very good when in fact he was very bad - you will lose credibility. Your readers or listeners will realise that they cannot believe your reviews, and your reviews will become useless - not providing an honest record, not offering guidance on the performance and not giving any useful feedback to the performers.
However, there is a difference between not telling lies and always telling the whole truth. It would be dishonest to say a bad performance was good, but it is not necessary to say that it was bad. If you do not want to offend or upset a performer who performed badly, you can choose not to mention them at all in the review.
This is an especially useful approach when reviewing amateur rather than professional productions. Furthermore, it is very important not to destroy the self-confidence of children by saying in your review that they are no good.
There are two kinds of criticism - constructive criticism and destructive criticism. The first kind always offers suggestions for how things could be done better - "Fred Imo's performance would have been better if he had spoken with more volume" - while the second kind merely pulls people down - "Fred Imo clearly represented the silent majority when he stepped on stage, since we could not hear a word he said".
Bearing all this in mind, let us consider how to write a review.
Plan on paper
Before starting to write your review, jot down on a piece of paper all the things you want to comment on.
If you have just seen a play, for instance, you may decide that the acting was generally very good, the play was excellent, the costumes were very good and the lighting quite good. However, despite all these good points, you may feel that the production was spoiled because the pace of the action was uneven, moving sometimes too fast and at other times too slowly.
If so, you would list these items, good and bad, deciding in what order you want to mention them:
Play
Acting
Costumes
Lighting
Pace
Note that, in this example, we have chosen to give all the positive things first, saving the adverse criticism until last. If the performance had been a thoroughly bad one, we would not have chosen to do it this way; but if we feel that there was more good than bad in it, it is better to do it this way.
Intro
A review needs a bright and inviting intro quite as much as any other piece of journalistic writing. If you start a review with a dry and dull intro such as the following, you will not encourage people to read or listen further:
POOR:
Moresby Theatre Group last night put on the first night of the musical The King and I at the Waigani Arts Theatre.
That is not an acceptable intro, because it is not news. Everyone who is interested in theatre knew that the musical would be performed last night. If it had not taken place, that would have been news.
It would be better to bring the intro up-to-date by saying how the audience reacted:
BETTER:
The first night of The King and I at Waigani Arts Theatre was greeted with warm applause by a capacity audience last night.
What the readers really want, though, is information about what the production was like. They want to know more than the fact that the production took place, and more than the reaction of the audience. They want to know the reviewer's expert opinion. They will be looking for an intro like this:
BEST:
The Siamese children marched across the stage and into the hearts of the audience at Waigani Arts Theatre last night.
This is not easy, but it becomes easier with practice and experience.
Item by item
Having written the intro, you have to work your way through your list of items, covering each one in turn. Try to devote several paragraphs to each item, offering examples whenever possible to back up any points which you make:
The lighting was very good, with slick changes and some very subtle effects.

The quality of the lighting in the opening scene was especially clever, giving the effect of dappled reflections off the water around the ship.
Don't be afraid to name names. If you are praising the quality of the lighting, then say who was responsible. Check the program to find out who it was. By praising good work, you encourage high standards.
Details
If you have enjoyed a performance, and if you write a good review of it, your readers or listeners will probably feel that they, too, would like to go and see it. There are few things more frustrating for them than to find that you do not mention where or when it is taking place, or how to get tickets.
It is a good idea to end every review with a summary of such details. It can be printed in italics if you wish, to indicate that it is not quite part of the review but a supplement to it:
The King and I is on at the Waigani Arts Theatre every evening except Sundays until July 27, starting at 7.30 pm. Tickets cost $5.50 and are available from Soft Touch, Boroko, or at the door.
Be aware, however, that many radio and television stations have a policy of not giving performance times or ticket prices, as this may be seen as a commercial activity in conflict with station policy.
Sound and vision
It is a good idea to get pictures or sound to go with a review, but it is not a good idea to do this during a performance. This will distract the performers and spoil the pleasure of other members of the audience.
The best time to take photographs, or make video or sound recordings, is at a dress rehearsal, or at a special media session. You should always arrange this in advance.
Typically, radio and television reviews begin with a short segment describing the performance or exhibition, with inserts of recordings of it; then they move on to a reviewer's opinions. Very often, the reviewer will be interviewed by the program presenter, which stops the listener having to concentrate on one voice for too long.
The danger of defamation
Defamation is the offence of damaging somebody's reputation by saying bad things about them which could do them harm. We explain this in detail in Chapters 69 and 70 on defamation.
If you are reviewing a performance which you consider to be very bad, you may be worried in case you are sued for defamation. In most legal systems you have no need to worry.
As long as the performance was a public one; as long as the review was fair and your honestly held opinion; and, most of all, as long as you did not write it with the motive to harm the people you criticise, then you should be safe. In some countries, the law might demand that you also give the facts upon which you based a negative opinion.
When people do things in public, like singing and dancing, they must expect the public to have the right to say what they thought of the performance.
Online reviewing for amateurs and influencers

The Internet has seen enormous growth of reviewing, beyond traditional media content by professional reviewers, who had developed expertise and trust in their specific field.
Social media platforms in particular have given more people the chance to experience the lives of others, to judge them and to share comments on them, whether those lives include theatre performances or the accommodation they provide through Airbnb. Some otherwise ordinary, unskilled people such as self-styled "influencers" can make a living out of promoting products and services they purport to like, if they can accumulate a large enough number of "followers" on platforms such as Instagram, YouTube or Tiktok. Their reviews range from superficial statements of what the reviewer likes or dislikes all the way to quite detailed and well-researched commentaries on products stretching from power tools to movies.
Whether they are influencers with a million Instagram followers or an amateur mechanic posting tool reviews on YouTube, they often mistakenly believe they are free to say what they want about something or someone. This misconception is aggravated by a lack of oversight or quality control over what they write or video stream. These are issues that Internet providers, users and regulators are only now beginning to tackle. While it is probable that the current social media free-for-all will be constrained in the same way as traditional media have been, wise journalists – or would-be journalists – should anticipate legal and quality-control problems to avoid being made an example by professional bodies or law enforcement.
The best advice on how to conduct a review will come from senior journalism colleagues, educators and media lawyers, but not everyone has access to these people. Freelancers, bloggers and citizen journalists often work alone or with minimal professional assistance. However, some help is available. Apart from educational sites such as The News Manual, the internet is increasingly awash with experts offering advice on how to avoid the legal traps and professional pitfalls of commenting on people, products and services. For example, many medium-to-large law firms provide free, simple-to-understand articles on their websites on issues such as defamation, contempt and trade practices when commenting or reviewing. And there are regulators such as the Australian Competition & Consumer Commission (ACCC), which provides useful, free advice on managing online reviews, including star ratings.
TO SUMMARISE:
Artistic and other creative performances are reviewed for three reasons:
to advise readers or listeners whether to go to the event
to let the performers know what people think of their performance
to provide a historical record of the event
Reviewers need to know what they are talking about
Reviewers should not be involved in any way with the performance
Write a lively and up-to-date intro
Cover all the points which are worthy of comment
Get pictures or recordings to illustrate the review